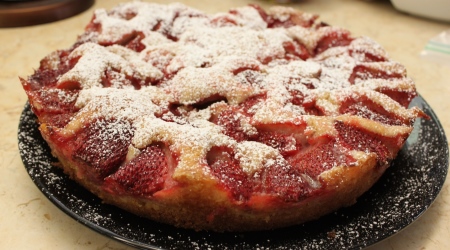 Oh Martha Stewart, you sure can bake a cake. Thank you for this divine summer cake recipe. My friends and I loved it!
Ingredients:
1 1/2 cups all-purpose flour
1/2 teaspoon baking powder
1/2 teaspoon baking soda
1/2 teaspoon salt
6 Tablespoons unsalted butter, softened
3/4 cup granulated sugar, plus 1 Tablespoon, divided
1 large egg
1/2 cup buttermilk
1 teaspoon vanilla extract
2 teaspoons finely grated lemon zest, divided
1 lb. fresh strawberries, halved – or quartered if very large
Directions:
Preheat oven to 350 degrees F.
Butter a 10-inch, extra deep pie or cake pan.
Whisk flour, baking powder, baking soda and salt together in a medium bowl.
Combine butter and 3/4 cup sugar in a stand mixer fitted with a paddle attachment.
Beat on medium-high speed until light and fluffy, about 3 minutes.
Mix in egg, buttermilk, vanilla and 1 teaspoon lemon zest on medium speed.
Add flour and mix to combine without over-mixing.
Spread batter in the prepared dish.
Arrange strawberries, cut-side down, on top of the batter, gently pressing to partially submerge. Squeeze in as many strawberries as possible.
Sprinkle with 1 Tablespoon sugar.
Bake about 1 hour, until top is light golden and a knife inserted in the cake comes clean.
Cool in plate on a rack.
Before serving, sprinkle reserved 1 teaspoon lemon zest over cake.
Serve slightly warm or at room temperature. Top with powdered sugar, and/or whipped cream.

Related Recipes