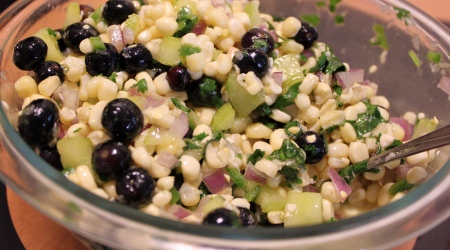 Yep, you read that right–corn and blueberries together in a salad! (Well, it's kinda like a salsa too.) Salad or salsa–it's SO GOOD! It's fresh and summery–sweet from honey and smoky from cumin. It's particularly tasty paired with grilled chicken, steak or salmon. Be brave and give it a try. I pulled this recipe from Better Homes and Gardens.
Ingredients:
6 ears fresh sweet corn, cooked and cooled
1 cup fresh blueberries, rinsed
1 cup cucumber, diced
1/4 cup red onion, finely chopped
1/4 cup fresh cilantro, chopped
1 fresh jalapeno pepper, seeded and finely chopped
2 Tablespoons fresh lime juice (about 2 limes)
2 Tablespoons extra virgin olive oil
1 Tablespoon honey
1/2 teaspoon ground cumin
1/2 teaspoon salt
Directions:
See my tip on how to quickly and easily cook corn on the cob in the microwave. Once corn is cooked and cooled, carefully cut off all kernels. Set aside.
In a large bowl whisk together lime juice, oil, honey, cumin, and salt.
Add corn, blueberries, cucumber, red onion, cilantro, and jalapeno.
Gently toss to combine.
Cover and refrigerate overnight.
Serve chilled.

Related Recipes