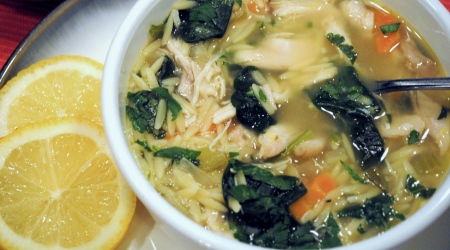 I recently found myself with leftover orzo from another recipe, so I Googled recipe ideas for orzo. I found this soup listed as "Panera Bread Copycat Recipe", and thought it sounded good. Well let me tell you, it turned out GREAT! Easy to make and freezes well. And though I've never tried the soup at Panera, now that I have this recipe, there's no need to.
Ingredients:
1 teaspoon extra virgin olive oil
1 medium onion, chopped
4 medium carrots, chopped
3 ribs celery, chopped
2 cloves garlic, minced
1 bay leaf
1 teaspoon McCormick Greek Seasoning
1/4 teaspoon cayenne pepper
(3) 32 oz. boxes chicken stock
8 oz. cooked and chopped chicken breast
8 oz. orzo pasta, parboiled in salted water for half the time called for on the package and drained
1/2 cup fresh lemon juice ( about 2 lemons)
zest from one lemon
Kosher salt and pepper, to taste
8 oz. fresh baby spinach
Directions:
In a large stock pot or dutch oven heat oil on medium heat.
Add onion, carrots and celery.
Cook until vegetables begin to soften and onion starts to become translucent.
Add garlic and cook for another minute.
Add bay leaf, Greek Seasoning and salt and pepper to taste.
Cook another minute, then add broth.
Bring to a boil and then partially cover and turn down to a simmer.
Cook until vegetables are just soft.
Add parboiled pasta, lemon juice and lemon zest. Stir.
Add cooked chicken.
Allow to heat through.
Before serving, stir in baby spinach and allow to get wilted in hot broth.
Taste for salt and pepper and remove bay leaf.
Spoon into bowls and garnish with lemon slices and Parmesan cheese, if desired.

Related Recipes