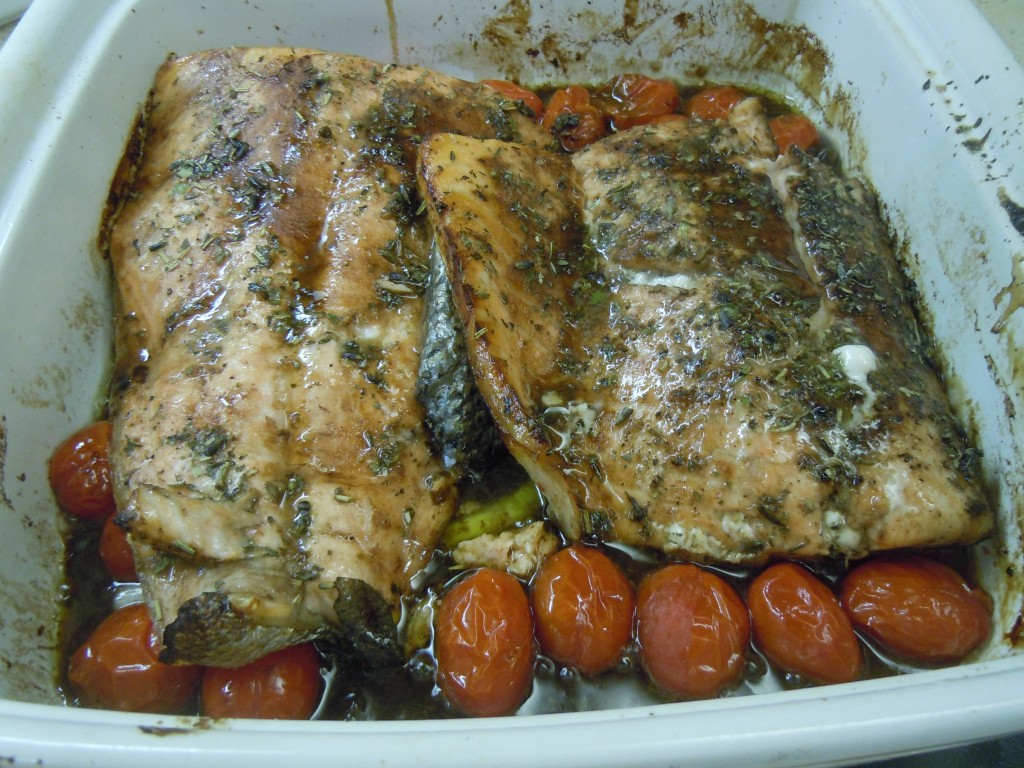 It doesn't get much easier than this one-dish-wonder! I used fresh salmon fillets, and served the roasted tomatoes and balsamic sauce over couscous. So good, if I do say so myself–this is a KP original.
Ingredients:
4 firm fish fillets, about 4 – 6 oz. each (salmon, snapper, or cod work well)
1 bunch scallions, ends trimmed
2 cups grape tomatoes
2 large cloves garlic, peeled and thinly sliced
Kosher salt and freshly ground black pepper
1 teaspoon dried Italian herbs
1 Tablespoon balsamic vinegar
Extra virgin olive oil, enough to coat the tomatoes and to drizzle over the fish
Directions:
Preheat oven to 400 degrees F.
In a large baking dish, toss together tomatoes, onions and garlic with enough extra virgin olive to coat evenly. Sprinkle with a little salt and freshly ground black pepper.
Roast in oven about 10 minutes, until the onions and tomatoes are soft.
Remove from oven.
Place fish fillets on top of the tomato, onion and garlic mix.
Drizzle balsamic and extra virgin olive oil over the fish.
Sprinkle with Italian herbs, salt and pepper.
Bake until fish is opaque throughout-about 10 – 15 minutes or more (depending on the thickness of the fish).
Serve immediately.

Related Recipes