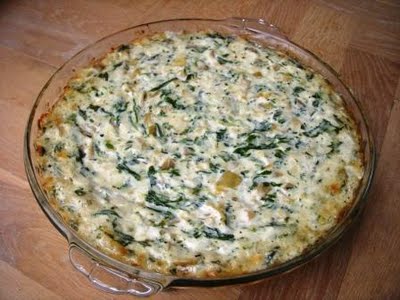 This is probably my favorite appetizer to order at a restaurant. So I make my own version to bring to parties. And people seem to love it! It's great hot from the oven or at room temp. Serve with crackers or tortilla chips.
Ingredients:
2 1/2 cups artichoke hearts (packed in oil) drained well and chopped
1 cup frozen chopped spinach, thawed and drained of all excess liquid
1 cup sour cream
1/2 cup mayo
1/2 cup cream cheese, softened
1 cup freshly grated parmesan cheese
1 teaspoon lemon juice
1/2 teaspoon garlic powder
Fresh ground black pepper, to taste.
Directions:
Pre heat oven to 375 degrees F.
In a large bowl, mix all ingredients together well.
Scrape mixture into a 10-inch pie pan. Smooth top.
Cover pan with tin foil and bake 30 minutes.
Remove tin foil and continue baking 10-15 minutes, until bubbly.

Related Recipes