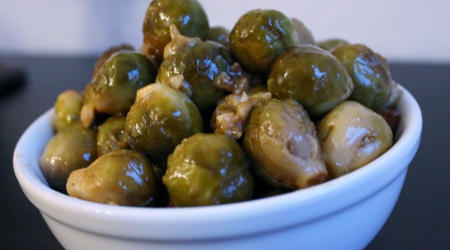 Grab your slow cooker and try this recipe! It's a great holiday side dish, because you throw it all together in the morning and forget about it until dinner time. I found this recipe on the site: http://crockpot365.blogspot.com/. I changed two things–added garlic, and switched out chicken stock for water. And boy oh boy is it delicious!! The sprouts turn out slightly browned, soft in the middle, and coated in a salty, garlicky butter sauce. Enjoy!
Ingredients:
2 pounds fresh Brussels sprouts
6 cloves fresh garlic, minced
3 Tablespoons butter, melted
1 Tablespoon Dijon mustard
Kosher salt and freshly ground black pepper, to taste
1/4 cup chicken stock
Directions:
Wash and trim the ends off of each Brussels sprout, and cut large ones in half.
Put into slow cooker.
Add garlic to slow cooker.
In a large measuring cup, whisk together melted butter, Dijon and chicken stock.
Pour over sprouts and garlic.
Season with salt and pepper, to taste.
Mix well with a large spoon.
Cover and cook on low for 4 to 5 hours, or on high for 2 to 3 hours.
Stir well to distribute the sauce before serving.

Related Recipes