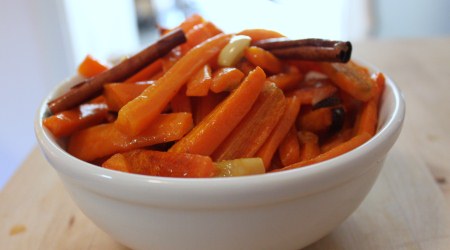 This dish is known as "Karen carrots" in my house, thanks to my friend Karen who first made these fantastic carrots for us! I LOVE these, and I don't even like cooked carrots. They're a great holiday side dish (just double the recipe for a crowd) because they go well with ham or turkey. But they're also great for a family dinner any night of the week–try 'em with Baked Chicken Breasts.
Ingredients:
10 large fresh carrots, peeled and cut into 2-inch strips
1 Tablespoon extra virgin olive oil
3 fresh cinnamon sticks
5 fresh garlic cloves, smashed
Kosher salt, to taste
Directions:
Pre heat oven to 400 degrees F.
Place carrot strips on a rimmed baking sheet.
Add olive oil and stir to coat.
Add smashed garlic and salt to taste. Stir well.
Evenly distribute cinnamon sticks in baking sheet, tucking between carrots.
Place in oven (uncovered) and bake 20 minutes.
Stir and bake additional 20 minutes, or until carrots are tender.
Remove cinnamon sticks before serving.

Related Recipes