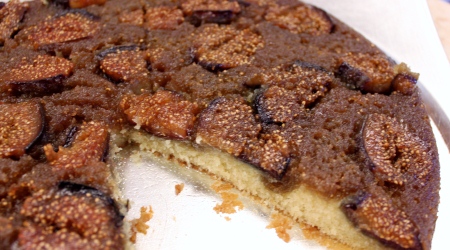 Thanks to my generous neighbor Frank, and his over-flowing fig tree, I am the proud owner of pounds of fabulous fresh figs! Never the one to waste, I have been searching for recipes to bake up these beauties. I found this cake recipe on Californiafigs.com. Yes, there are so many figs growing in California that the state has an advisory board and website! Gotta love it. So if you happen to live near a fig tree (or find them on sale at your local grocery store) bake 'em up in this amazing cake!!!
Ingredients:
9 Tablespoons butter, divided
3/4 cup packed brown sugar
1 lb. fresh figs, rinsed, stems removed
2 eggs
8 Tablespoons buttermilk, divided
1  teaspoon vanilla
1 cup all-purpose flour
3/4 cup granulated sugar
1/4 teaspoon baking soda
3/4 teaspoon baking powder
1/4 teaspoon salt
Directions:
Preheat oven to 350 degrees F.
Place 3 Tablespoons butter in a 10-inch cast iron skillet, and melt butter over medium low heat.
Rotate skillet to coat all sides with butter.
Sprinkle brown sugar evenly over bottom of skillet.
Cut figs in half. Place figs in a single layer, cut side down, into brown sugar.
In a small mixing bowl, combine eggs, 2 tablespoons buttermilk and vanilla using a fork.
In a separate large mixing bowl, whisk together flour, granulated sugar, baking soda, baking powder, and salt.
Add remaining 6 Tablespoons butter (softened) and remaining 6 Tablespoons buttermilk to dry mixture.
Beat on low speed just until flour is moistened.
Increase speed to medium-high, and beat for exactly 90 seconds. (Batter will be stiff.)
Add 1/3 of the egg mixture at a time, beating for exactly 20 seconds and scraping the bowl after each addition.
Pour batter over figs, scraping the bowl. Gently spread evenly to edges of skillet.
Bake 35 – 40 minutes (until a toothpick inserted, comes out clean).
Remove from oven, and tilt pan in all directions to detach it from the sides of the skillet.
Cool 5 minutes before unmolding.
Invert a serving platter on top of pan.
Cover your hands with oven mitts and turn the cake onto platter.
Slowly lift off the pan.
Scrape any brown sugar remaining in the pan and spoon it over the cake.
Use a fork to replace any stray fig halves (though I must say I had none!).
Serve warm with freshly whipped cream.

Related Recipes