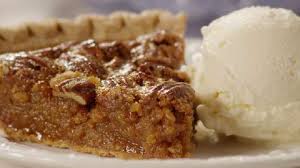 Super easy and super good! Serve with a scoop of vanilla ice cream and enjoy every blissful bite.
Ingredients:
1  pre-made 9-inch pie crust
1 cup packed dark brown sugar
2/3  cup pure maple syrup
3 large eggs
3 Tablespoons butter, melted
1 teaspoon vanilla extract
1/4  teaspoon salt
2 cups pecan halves, toasted
1 large egg white, lightly beaten
Directions:
Preheat oven to 375 degrees F.
Place pre-made pie crust in 9-inch pie plate.
In a large bowl, with wire whisk, mix sugar, syrup, whole eggs, butter, vanilla and salt until well blended.
Spread pecans in even layer in pie shell, then pour sugar mixture over them.
Bake 35 minutes or until filling is golden brown, puffed, and set around edge, but center still jiggles slightly.
Cool completely on wire rack.

Related Recipes