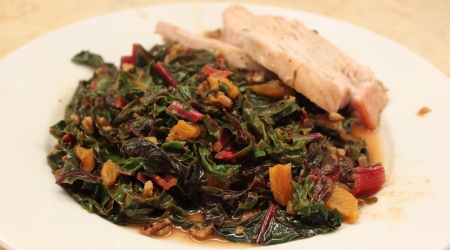 Uber healthy greens get the gourmet treatment with dried fruit and slivered almonds in this recipe from www.relish.com. These greens are super tasty and soup-y to eat (see what I did there??) I served them along side roasted turkey breast, but they would also be excellent over whole wheat pasta, brown  rice, couscous, or quinoa. It doesn't get much healthier than this, so dig in!!!
Ingredients:
1/2 pound (about 5 cups) fresh greens (mustard greens, Swiss chard, or kale)
2 Tablespoons olive oil
1 shallot, finely chopped
1/4 cup raisins
1/4 cup dried apricots, chopped
1/4 cup pine nuts
1/4 cup slivered almonds
2 cubes vegetable bouillon
1/4 cup dry white wine
1 cup hot water
1 teaspoon Kosher salt
Freshly ground black pepper, to taste
Instructions:
Wash greens in several changes of water. Chop leaves and edible stems.
Heat oil in a large, heavy saucepan over medium heat.
Add shallot and saute until fragrant.
Add raisins, apricots, pine nuts, almonds and stems.
Stir until nuts are lightly browned and fruit plumps up.
Add bouillon cubes, smashing them into mixture.
Add white wine. Boil 1 or 2 minutes.
Add greens and toss.
Add hot water, salt and pepper.
Stir and cook over low heat until greens are wilted, stems are tender, and liquid has reduced to a slightly syrupy consistency, 8 to 10 minutes.
The dish will be brothy.

Related Recipes