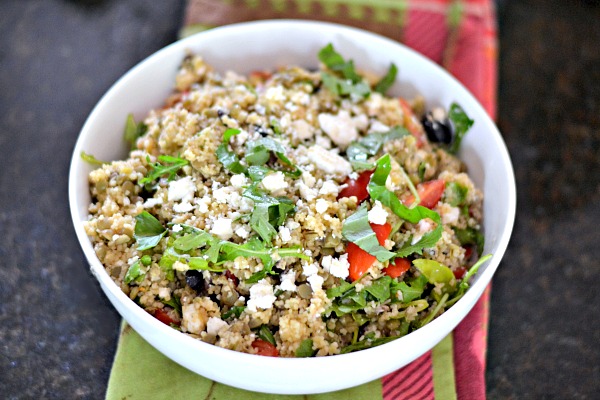 A neighbor of mine was selling "The Cancer-Fighting Kitchen" cookbooks as a fundraiser for the Cancer Society. Since I love to cook, and also love a good cause, I happily bought one. The recipes included are all healthy, fresh, and delicious. Here's one of my absolute favs!
Ingredients:
1 cup dry lentils, cooked according to package directions (I used 1 package of Trader Joe's cooked lentils, from produce aisle)
1/4 cup extra virgin olive oil
1 Tablespoons rice vinegar
Juice from 1 large lemon
1 teaspoon lemon zest
1 teaspoon ground cumin
1/4 teaspoon ground cinnamon
1/2 teaspoon dried oregano
Kosher salt and freshly ground black pepper, to taste
1 red bell pepper, seeded and diced small
1 cucumber, seeded and diced small
1/2 cup kalamata olives, sliced
3 Tablespoons fresh mint, chopped
3 Tablespoons fresh parsley, chopped
3 oz. feta cheese, crumbled
Directions:
In a large mixing bowl, whisk together olive oil, vinegar, lemon juice, zest, cumin, cinnamon, oregano, salt and pepper.
Toss with lentils and all other ingredients except feta.
Let sit 20 minutes at room temp if eating right away. Otherwise, cover and put in fridge.
Top with feta before serving.

Related Recipes