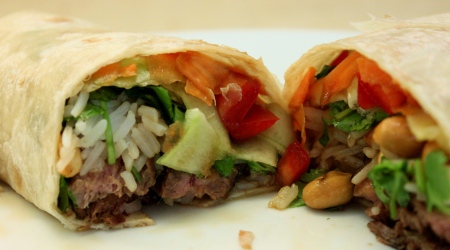 Remember the Asian Marinated Flank Steak recipe that I was so excited to post?? Well, here's a fabulous way to serve that incredibly flavorful, tender, grilled steak all wrapped up with tons of fresh stuff. So make the steak one night this week, then use leftovers for this wrap (that's what I did!) This KP original recipe makes one giant wrap–increase quantities if you're feeding more than yourself.
Ingredients:
1 Tablespoon fresh cilantro, chopped
1 Tablespoon fresh mint leaves, chopped
1 Tablespoon fresh carrot, shredded
1 Tablespoon fresh cucumber, shredded
1 Tablespoon red bell pepper, chopped
1 Tablespoon green onion, chopped
1 Tablespoon roasted peanuts, chopped
1/3 cup Jasmine rice, cooked according to package directions
1 cup Asian Marinated Flank Steak, cooked and thinly sliced
2 teaspoons prepared Teriyaki sauce (my absolute favorite is Veri Veri Teriyaki!!)
1 large tortilla wrap (burrito size)
Asian Sweet Chili sauce, drizzled to taste
Directions:
Layer all ingredients inside tortilla wrap.
Wrap it up, slice in half, and dig in!

Related Recipes