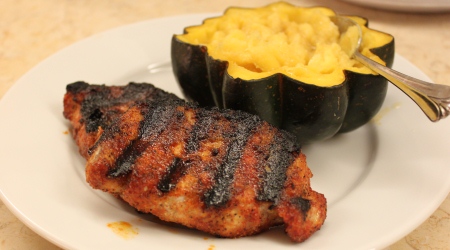 I love this spice rub! It gives the meat lots of smokey flavor, with a hint of sweetness. You can use it on chicken as well. Delicious!
Ingredients:
1 Tablespoon garlic powder
1 Tablespoon kosher salt
1 Tablespoon black pepper
1 Tablespoon onion powder
2 Tablespoons smoked paprika
2 Tablespoons brown sugar
6 pork chops, boneless, thick-cut
1 Tablespoon extra virgin olive oil, for drizzling
Directions:
Mix together all dry ingredients (garlic powder thru brown sugar).
Rinse and pat dry pork chops.
Rub equal portions of spice rub onto both sides of each pork chop.
Allow rubbed pork chops to set at room temp for 20 minutes.
Pre heat grill to medium-high heat.
Drizzle olive oil evenly over both sides of pork chops.
Grill 8-10 minutes per side, or until cooked thru. (depending on thickness).
Remove from grill, cover loosely with tin foil, and allow chops to rest 5 minutes.

Related Recipes