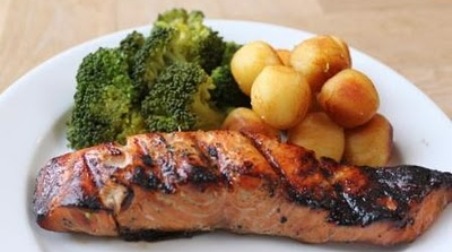 Here's my friend Meg's recipe for simple grilled salmon. You most likely have all ingredients on hand, so go get some fresh salmon fillets from your local seafood shop, fire up the grill and enjoy! Serve with potatoes and fresh steamed broccoli for a quick dinner. Or if you have the time, make Edamame and Mushroom Risotto to serve along side this salmon–delish!
Ingredients:
1/2 cup soy sauce
2 Tablespoons honey
1 Tablespoon Dijon mustard
3 fresh garlic cloves, minced
4 salmon fillets
Directions:
To make marinade, whisk together first four ingredients until well combined.
Place salmon fillets, skin side up, in a large zip-lock bag and pour marinade into bag.
Squeeze air from bag and seal.
Refrigerate 30 minutes.
Brush grill with oil or spray with cooking spray. Heat grill to low.
Place salmon fillets, skin side down, and grill 10 minutes.
Flip fillets over and grill additional 5 minutes, or until fish flakes easily with a fork.

Related Recipes