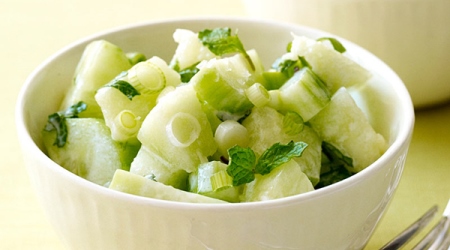 This salad is fresh in more ways than one…besides having all super fresh ingredients, it's  a fresh idea on salad! The combination of (what may seem like) unusual flavors, makes one fantastic side dish! Great with BBQ chicken, salmon and pork. Found this on WeightWatchers.com.
Ingredients:
1 large honeydew melon, chopped (about 4 cups)
1 medium cucumber, peeled, chopped (about 2 cups)
4 scallions, thinly sliced (about 1/2 cup)
2 Tablespoons plain lowfat Greek yogurt
2 Tablespoons fresh lemon juice
2 Tablespoons fresh mint, leaves, chopped
1/2 teaspoon kosher salt
Directions:
Toss all ingredients together in a large serving bowl.
Serve at once or cover and refrigerate for up to 2 days.

Related Recipes