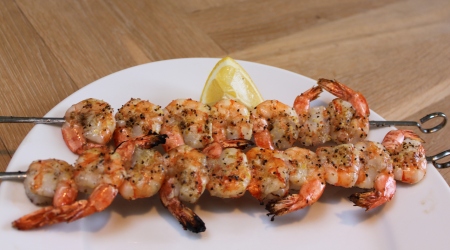 OK, this recipe is so easy and so yummy you gotta try it! It's a summer favorite at my house, and since it's May, I hereby declare it summer! Serve these delicious shrimps with wedges of fresh lemon, on top of couscous, with a side spinach salad for an incredible meal.
Ingredients:
1 lb. fresh large shrimp, tails on
Lawry's Lemon Pepper seasoning, to taste
Extra virgin olive oil
2 fresh lemons, for serving
Direction:
Clean and de-vein shrimp, leaving tails on.
Generously season shrimps with lemon pepper.
Thread shrimps onto metal skewers, suitable for grilling.
Drizzle shrimp skewers with olive oil.
Heat grill to low.
Place skewers of shrimp on grill and cook 2 minutes.
Carefully flip over skewers and cook additional 2 minutes, or until shrimp curl up and are pink.
Remove from grill and squeeze fresh lemon juice over hot shrimp.
Serve immediately.

Related Recipes