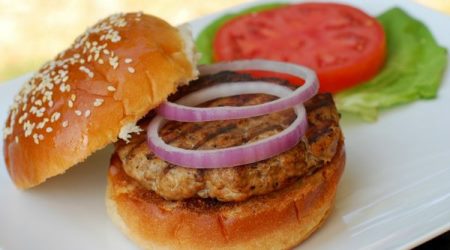 My hubby says, "why eat a turkey burger, when you can eat a real beef hamburger?" To which I reply, "but have you tried these turkey burgers??" Because they are, in a word, awesome! Just the right mix of flavor and spice–not mushy or dry. Awesome! Thanks to WeightWatcher.com for the original post.
Ingredients:
1 lb. uncooked 93% lean ground turkey
1 Tablespoon minced onion
1 Tablespoon soy sauce
1 Tablespoon ketchup
1/4 teaspoon garlic powder
1/3 cup sharp cheddar cheese, shredded
1/4 teaspoon black pepper
4 hamburger buns, plus other toppings you choose (like lettuce, tomato, pickles, onion, mayo)
Directions:
Combine all ingredients in a bowl (except for the buns and toppings).
Using clean hands, mix together. Do not over-mix.
Gently shape into 4 patties.
Over medium-high grill heat, grill patties until done, flipping mid-way through cooking. About 5-7 minutes per side.
Serve each burger on a hamburger bun and top with lettuce, tomato, pickles, onion, mayo, etc.

Related Recipes