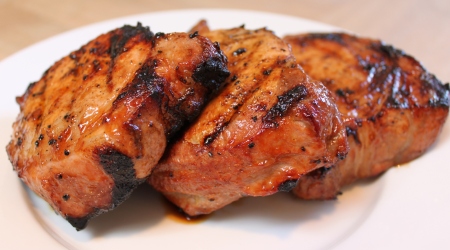 Seriously–throw out all of your other marinade recipes for pork chops. This is the only one you'll need! Thanks to my friend Sandy for sharing this recipe. Serve with Oven Roasted Potatoes or Potato Salad, and Roasted Garlic Lemon Broccoli for a great summer feast!
Ingredients:
4 thick-cut, boneless pork chops
1/4 cup extra virgin olive oil
1/4 cup soy sauce
2 Tablespoons ketchup
2 Tablespoons red wine vinegar
2 Tablespoons brown sugar
1 Tablespoon Dijon mustard (spicy if ya like!)
3 fresh garlic cloves, chopped
Fresh ground black pepper, to taste
Directions:
Whisk together all ingredients (except pork chops) until well combined.
Place pork chops in a large zip-lock bag and pour in marinade. Seal tightly, squeezing out all air.
Marinade overnight in the refrigerator.
Pre-heat grill to medium heat.
Remove pork chops from marinade. Discard leftover marinade.
Grill pork chops approximately 8-10 minutes PER SIDE (depending on thickness and desired doneness).
Remove from grill and allow to set 5 minutes before serving.

Related Recipes