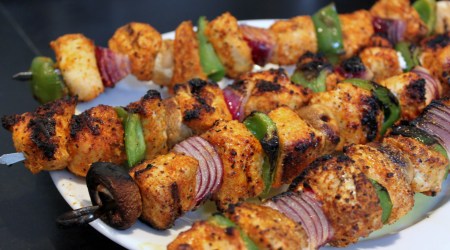 On a sunny summer day, when it's too hot to cook inside, break out the grill and try these tasty kebabs. Super easy to make and super yummy to eat. Serve them hot off the grill, on a bed of cooked couscous, with a generous squeeze of fresh lemon juice. Delish!
Ingredients:
2 teaspoons Lawry's Lemon Pepper seasoning
1 teaspoon garlic powder
1 teaspoon onion powder
1 teaspoon sweet paprika
1 teaspoon Zehnder's Chicken seasoning
4 boneless, skinless chicken breasts, cut into 1-inch cubes
1 large green pepper, cut into 1-inch cubes
1 large red onion, cut into 1-inch cubes
12 white mushroom caps, cleaned with stems removed
Extra virgin olive oil, for drizzling
4 (12-inch) stainless steel BBQ kebab skewers
Fresh lemons and couscous, for serving
Directions:
Pre-heat grill to medium high heat.
To make rub, mix first 5 ingredients together in a shallow dish (lemon pepper thru chicken seasoning).
Toss chicken pieces in rub and evenly coat each piece.
Thread chicken and veggies alternately onto skewers.
Drizzle olive oil evenly over skewers.
Grill skewers 6-8 minutes per side, or until lightly charred on the outside, and chicken is cooked thru.
Remove from grill and carefully slide chicken and veggies off skewers.
Squeeze generously with fresh lemon juice and serve over couscous, if ya like!

Related Recipes