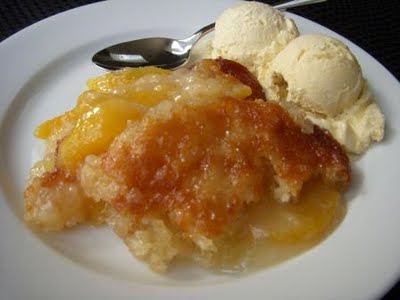 This incredible recipe comes from a dear family friend in Georgia. She made this cobbler when I lived in Atlanta, and it's been a favorite dessert of mine ever since! Use 
fresh
, sweet, juicy peaches and serve warm with vanilla ice cream. It's heaven on a plate!
Ingredients:
2 cups fresh peach slices, (about 4 large peaches)
1 teaspoon fresh lemon juice
1/4 teaspoon almond extract
1/2 cup white sugar
1/2 cup butter, melted
3/4 cup all-purpose flour
1 cup white sugar
2 teaspoons baking powder
3/4 cup whole or 2% milk (not skim)
Directions:
Pre heat oven to 300 degrees F.
Peel and slice peaches into equal size pieces.
Place peaches in a bowl and fold in lemon juice and almond extract. Sprinkle 1/2 cup sugar over peaches. Set aside.
In a large bowl whisk together flour, 1 cup sugar, and baking powder. Add milk and stir until well combined.
Place melted butter in 9×9 glass baking pan.
Spoon batter into baking pan, on top of butter. DO NOT MIX TOGETHER.
Spoon peaches on top of batter and once again DO NOT MIX TOGETHER.
Place in hot oven and bake 1 hour, un-covered, or until firm to the touch.
Serve warm.

Related Recipes