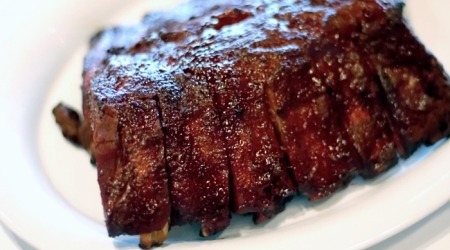 Here's my 6 year old's favorite meal! I get the pork ribs and barbecue sauce from Trader Joe's, but use what you like. Such a fantastic summer meal! Serve with corn on the cob, potato salad, and watermelon. Yummy!!
Ingredients:
1 1/2 Tablespoons smoked paprika
1 Tablespoon brown sugar, packed
1/8 teaspoon cayenne pepper
Kosher salt and freshly ground pepper, to taste
2 lbs. pork baby back ribs (leave the membrane on the ribs to help hold them together)
1 cup prepared barbecue sauce
Directions:
In a small bowl, mix together paprika, brown sugar, cayenne, salt and pepper.
Rub mixture all over both sides of ribs.
Pre heat oven to 325 degrees F.
In a cookie sheet or shallow roasting pan, add about 1/2 inch of water.
Place ribs, meaty side up, in the pan in a single layer.
Cover tightly with aluminum foil and place in oven.
Bake between 1 to 1 1/2 hours, or until meat is easily pierced with a knife.
Pre heat grill to medium high heat.
Remove ribs from oven, and carefully remove foil. Drain water from pan.
Brush ribs with your favorite barbecue sauce and grill about 5 minutes or until sizzling and golden.
Turn ribs over and repeat with barbecue sauce and grill again 5 more minutes.
Repeat brushing sauce and grilling on each side, one more time, grilling another 2 minutes per side.
Watch carefully when broiling, so that they do not burn.

Related Recipes