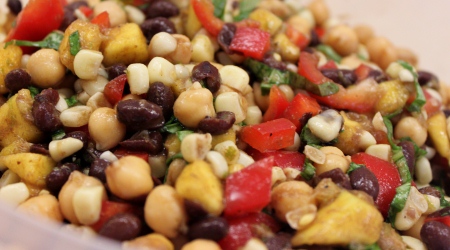 Thanks to my friend Missy for sending me this recipe. (She found it on Foodnetwork.com.) I made this salad and brought it to a potluck recently–it was a huge hit! There's something about the combo of lime, basil, mango, and corn that really stands out. Yum!! It would be great paired with grilled fish or chicken too.
Ingredients:
2 ears fresh corn, cooked, cooled and cut from cob
1 (15 oz.) can black beans, drained and rinsed
1 (15 oz.) can garbanzo beans, drained and rinsed
1 red bell pepper, diced
1 mango, peeled, seeded, and diced
2 fresh limes, zested and juiced
2 Tablespoons balsamic vinegar
1/2 cup fresh basil leaves, chopped
1 teaspoon ground cumin
1/3 cup extra virgin olive oil
Kosher salt and freshly ground black pepper, to taste
Directions:
In a medium bowl, mix together corn kernels, black beans, garbanzo beans, bell pepper, and mango.
In a separate small bowl, combine lime zest, lime juice, balsamic vinegar, basil, and cumin. Slowly add oil, whisking constantly until the mixture thickens. Season with salt and pepper, to taste.
Pour vinaigrette over salad and toss well.
Cover and refrigerate 1 hour, and toss again, before serving.

Related Recipes