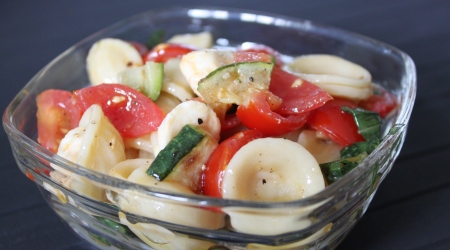 There's a cafe in my neighborhood that serves the most amazing salads! There are so many good ones to choose from, I can never decide what to order. But this pasta salad is one of my favorites. I absolutely love the grilled zucchini in it! This is my attempt to recreate the salad at home–and I think I got it just right. This recipe makes plenty, so it's great for a pot luck or lunch with friends.
Ingredients:
1 lb. orecchiette pasta
1 medium zucchini
25 fresh cherry tomatoes, quartered
1 cup fresh mozzarella, cubed
1/2 cup fresh basil leaves, packed
2/3 cup high quality extra virgin olive oil, plus 1 teaspoon for pan
1/3 cup white wine vinegar
Garlic salt and fresh ground pepper, to taste
Directions:
Cook pasta according to package directions. Set aside to cool completely.
While pasta is cooling, heat 1 teaspoon olive oil in a grill pan.
Slice zucchini long-wise and place slices in hot grill pan.
Grill zucchini 3-5 minutes per side, until golden brown.
Remove from pan and cool completely. Once cooled, cut into cubes.
In a large bowl, pour in 2/3 cup olive oil.
Using a whisk, add vinegar and whisk until emulsified.
Add to bowl with dressing, cooled pasta, cooled zucchini cubes, tomatoes, mozzarella, and basil. Toss to coat.
Season with garlic salt and pepper, to taste.
Refrigerate 1 hour before serving.

Related Recipes