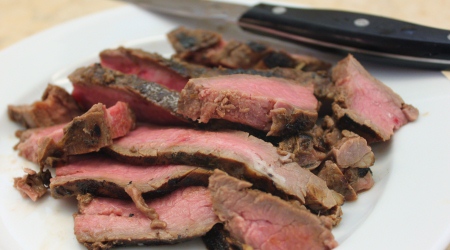 This is by far one of my favorite recipes! In my top three for sure. Why haven't I posted it until now, you ask? Well…because living in Europe I could never figure out how to buy a flank steak. Really–these were my issues living overseas

So now that I'm back in the US of A (and have a super-duper new Weber grill to play with) I'm finally adding this incredible recipe to the website! This marinade flavors the beef perfectly and the meat is so tender it melts in your mouth. I found this recipe years ago, printed in a Stanford Football program (random–I know). Please, do yourself a favor, and make this ASAP. Try it with Asian Vegetable Rice. You will not be disappointed!
Ingredients:
1 1/2 lbs. flank steak
1/2 cup extra virgin olive oil
1/4 cup soy sauce
2 Tablespoons white vinegar
2 Tablespoons honey
1 Tablespoon toasted sesame oil
3 fresh garlic cloves, minced
1 teaspoon fresh ginger root, peeled and grated
Directions:
In a large measuring cup, whisk all ingredients together (except steak), until well blended.
Pierce steak with a fork in several places.
Place steak in a large Ziplock bag.
Pour in marinade, coating both sides of steak.
Squeeze out all air and seal bag tightly.
Place bag with steak and marinade in a shallow dish and place in refrigerator.
Refrigerate overnight, turning once.
Remove steak from fridge, allowing to sit at room temp 15 minutes before grilling.
Heat grill to medium high heat.
Grill steak 6-8 minutes PER SIDE. But do not overcook. Flank steak should be cooked medium-rare.
Remove steak from grill and place on a large serving platter (to catch the juices).
Allow steak to rest 5 minutes before slicing.
NOW THIS IS IMPORTANT! Slice steak AGAINST the grain and into thin pieces. This step guarantees a tender, melt-in-your-mouth flank steak!
Serve steak drizzled with juices that have run off meat.

Related Recipes