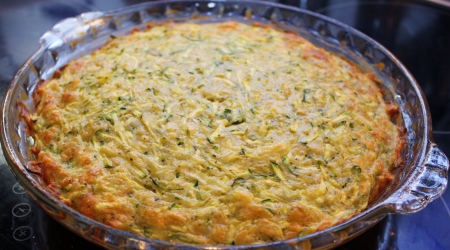 This an old stand-by for me. Throw all ingredients into one bowl, mix and bake. It's best served warm, with a side caesar salad. Great for breakfast, brunch or lunch. Plus, my kids devour it!
Ingredients:
3 cups zucchini, grated (use a cheese grater)
1 small onion, chopped
1 cup all-purpose flour
1 cup mozzarella cheese, grated (Gouda cheese is also good)
3 eggs, beaten
1/4 cup extra virgin olive oil
1/4 cup Parmesan cheese, grated
2 teaspoons fresh basil, chopped
1 teaspoon baking powder
1 teaspoon garlic salt
Fresh ground black pepper, to taste
Directions:
Pre-heat oven to 350 degrees F.
Combine all ingredients in a large bowl and mix well.
Spoon the mixture into a 10-inch round glass pie plate that has been coated with cooking spray.
Bake un-covered for 45-50 minutes, or until firm to the touch and golden brown.
Cool 10 minutes before slicing.

Related Recipes