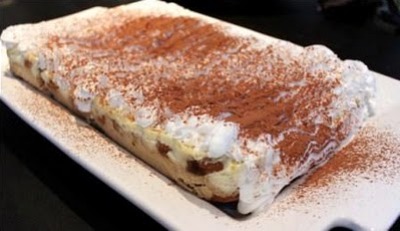 Making tiramisu from scratch is a daunting task. And to be honest, I've yet to try it. But when I saw this recipe on Kraft.com, I figured I could test it out. And I'm glad I did! This rich and creamy dessert has all the flavor of tiramisu with the added bonus of cheesecake! Plus it's simple to prepare. As with all desserts, enjoy in moderation.
Ingredients:
1 package (12 oz.) NILLA Wafers (about 88), divided
5 teaspoons instant coffee granules, divided
3 Tablespoons hot water, divided
4 packages (8 oz. each) cream cheese, softened
1 cup granulated sugar
1 cup sour cream
4 eggs
1 cup whipped cream
2 Tablespoons unsweetened cocoa powder
Directions:
Pre heat oven to 325 degrees F.
Line 13×9-inch pan with foil, with ends of foil extending over sides.
Spread half the wafers onto bottom of prepared pan.
Add 2 teaspoons coffee granules to 2 Tablespoons hot water; stir until dissolved.
Brush half onto wafers in pan; reserve remaining dissolved coffee for later use.
Beat cream cheese and sugar in large bowl with mixer until well blended.
Add sour cream and beat well.
Add eggs, 1 at a time, mixing on low speed after each just until blended.
Remove 3 1/2 cups batter and place in medium bowl.
Dissolve remaining coffee granules in remaining hot water. Stir into removed batter and pour over wafers in pan.
Top with remaining wafers and brush with remaining dissolved coffee.
Cover with remaining plain batter.
Bake 45 minutes or until center is almost set.
Cool completely.
Refrigerate at least 3 hours, or overnight.
Use foil handles to lift cheesecake from pan. Spread with whip cream just before serving and sprinkle with cocoa powder.

Related Recipes
Chocolate Chip Cheesecake
Rich. Creamy. Chocolaty. Delicious. Everything a great cheesecake should be! I found this recipe i...
Cheesecake Squares
These rich and creamy cheesecake bars are delicious as is, but you can dress them up with fresh ...
Cheesecake Brownies
Here's a recipe for two great tastes that taste great together! These cheesecake brownies are sw...