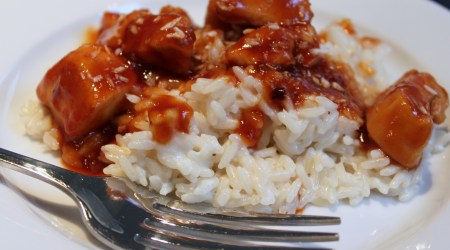 This dish is a great balance of flavors–sweet and spicy chicken served over creamy coconut rice. It's an easy diner to make any night of the week. As an added bonus, my toddler gobbles it up! The chicken recipe is a KP original, and the rice comes from allrecipes.com.
Ingredients for Sweet Chili Chicken:
1/4 cup chicken stock
1/4 cup Asian sweet chili-garlic sauce
2 Tablespoons soy sauce
2 Tablespoons rice wine vinegar
2 Tablespoons ketchup
4 boneless, skinless chicken breasts, cut into 1-inch chunks
2 teaspoons fresh shallots, minced
2 teaspoons extra virgin olive oil
Directions for Sweet Chili Chicken:
Whisk together first 5 ingredients (chicken stock thru ketchup) until well blended. Set aside.
Heat olive oil in large non-stick skillet over medium high heat.
Add shallots and cook 2 minutes.
Add chicken pieces.
Cook 8-10 minutes, stirring often, until chicken is browned.
Add sauce and bring to a boil.
Reduce heat and simmer 3 minutes, until slightly thickened, and chicken pieces are coated.
Serve over Coconut Rice.
Ingredients for Coconut Rice:
1 (14 oz.) can coconut milk
1 1/4 cup water
2 teaspoons granulated sugar
1/2 teaspoon kosher salt
1 1/2 cup Jasmine rice
Directions for Coconut Rice:
In a medium saucepan, whisk together coconut milk, water, sugar and salt. Continue whisking until sugar dissolves.
Stir in rice.
Bring to a boil over medium heat.
Cover and reduce heat to a simmer.
Cook 18-20 minutes, or until liquid is absorbed.
Remove lid and fluff with fork.

Related Recipes