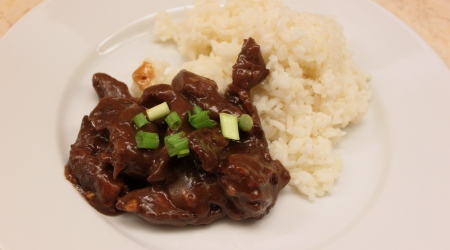 Here's a tasty fix-it-and-forget-it slow cooker meal! Serve this fork tender, slightly sweet & spicy beef over hot steamed rice for a great dinner. Plus it's so much less greasy than take-out Mongolian Beef. Thanks to crockpot365.blogspot.com for the recipe.
Ingredients:
1 1/2 lb. flank steak, sliced thinly across the grain
3 cloves fresh garlic, minced
4 sliced green onions, divided
1 teaspoon dried minced onion
1/2 cup soy sauce
1/4 cup white wine
1/4 cup cooking sherry
1/2 Tablespoon white wine vinegar
1 teaspoon toasted sesame oil
1 teaspoon molasses
1 teaspoon ginger
1/4 teaspoon black pepper
1/2 teaspoon red chili flakes
1/2 Tablespoon peanut butter
3 Tablespoons brown sugar
1/4 cup cornstarch
Directions:
Place sliced beef into a baggie with cornstarch. Shake to coat. Discard excess cornstarch, if any.
Put all liquid and dry spices into slow cooker.
Add peanut butter and whisk well.
Stir in minced garlic and 3 green onions.
Place beef in slow cooker and mix well.
Cover and cook on low 4-6 hours.

Related Recipes