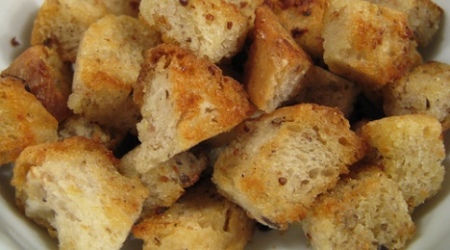 Why use packaged, tasteless, dry, store-bought croutons, when you can whip these up in only a few minutes at home?? These are so delicious that I have to slap my husband's hand away or he'll eat them all before dinner is ready! Serve these KP original croutons atop Grilled Chicken Ceaser Salad, KP Cobb Salad, KP Summer Salad, Bruscetta Salad, or Chef Salad.
Ingredients:
6 cups sourdough bread, cut into 1/2-inch cubes
1/2 cup extra virgin olive oil
1 teaspoon dried Italian herbs
1 teaspoon garlic powder
1 teaspoon onion powder
Kosher salt and freshly ground black pepper, to taste
Directions:
Pre-heat oven to 425 degrees F.
Toss bread cubes in a large bowl with olive oil and all seasonings.
Mix until all bread is evenly coated.
Spray cookie sheet with Pam and spread bread cubes evenly onto pan.
Bake 5 minutes, then stir in pan.
Bake another 5 minutes, or until golden brown.
Remove from oven and allow to cool.

Related Recipes