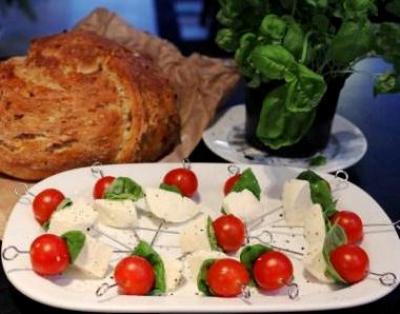 This appetizer idea comes from my friend in Mina in Amsterdam. It's fresh, easy to make and serve, and delicious! Try it at your next gathering along side fresh baked Italian bread.
Ingredients:
Fresh mozzarella cheese, enough to cut into 20 equal 1-inch cubes
20 fresh, ripe grape-size tomatoes
20 fresh basil leaves
20 Party tooth-picks
Extra virgin olive oil
Balsamic vinegar
Freshly ground black pepper
Kosher salt
Directions:
On each tooth-pick, place 1 tomato, 1 basil leave, and 1 cheese cube.
Season with salt and pepper to taste.
Right before serving, drizzle with olive oil and balsamic vinegar.

Related Recipes