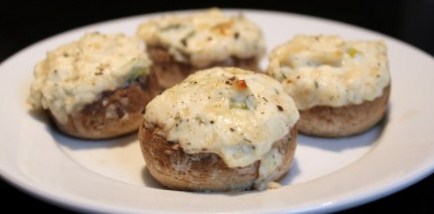 I first tasted a version of these stuffed mushrooms at my sister's bachelorette party. These mushrooms were eaten as fast as they were put out. I never did get the recipe from that night, but I re-created it. These are a fabulous appetizer, filled with cheese and Ranch dressing. Yum!
Ingredients:
1 cup cream cheese, softened
2 Tablespoons green onions, chopped
3 Tablespoons bottled Ranch dressing
1/2 teaspoon garlic powder
1/4 teaspoon dried dill
1/8 teaspoon ground red pepper
1/2 cup freshly grated parmesan cheese
15-20 large white mushrooms
Directions:
Pre heat oven to 400 degrees F.
Clean mushrooms. Remove and discard stems.
In a medium bowl, mix all ingredients together (except mushrooms) until well blended.
Fill each mushroom cap with heaping teaspoon of cream cheese mixture.
Place filled mushrooms on cookie sheet.
Bake 10-15 minutes, until slightly browned on top.
Allow to cool 5 minutes before serving.

Related Recipes