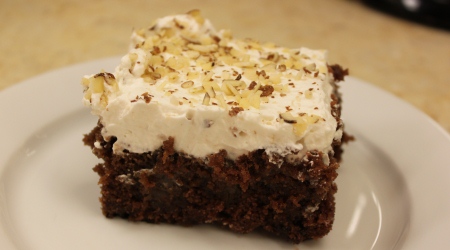 The real name of this cake is "Better Than Sex Cake". I'll let you be the judge of that

Ingredients:
1 recipe chocolate cake (below)
1 jar Mrs. Richardson caramel sauce
1 1/2 cups heavy whipping cream
1 teaspoon vanilla extract (for whipped cream)
1 tablespoon powdered sugar (for whipped cream)
2 cups chopped almonds
Chocolate Sheet Cake:
2 cups all-purpose flour
2 cups granulated sugar
1/4 teaspoon salt
1/4 cup cocoa powder
1 cup unsalted butter
1 cup boiling water
1/2 cup buttermilk
2 large eggs
1 teaspoon baking soda
1 teaspoon vanilla extract
Butter and cocoa powder for the pan
Directions:
For Cake:
Pre heat oven to 350 degrees F.
In a large bowl, whisk together flour, sugar and salt. Set aside.
In a large saucepan over medium heat, melt together butter and cocoa powder. Once smooth, stir in boiling water. Cool slightly.
Add cocoa powder mixture to dry ingredients and stir to combine.
In a separate bowl, whisk together eggs, buttermilk, baking soda, and vanilla.
Stir buttermilk mixture into batter. (Try not to overmix, but make sure all flour is mixed in.)
Prepare baking pan by buttering it lightly and dusting it with cocoa powder.
Add batter to pan and bake 30-35 minutes until a tester comes out clean in the center of the cake.
Finishing the Cake:
When cake comes out of the oven, poke a bunch of holes evenly in it with a chopstick.
Pour caramel sauce over the cake. Use a spatula to scrape the sauce back and forth so the sauce gets completely absorbed by the cake.
Let cake sit at room temperature for 30 minutes.
Chill cake a few hours or overnight.
When ready to serve, whip cream with sugar and vanilla until it forms stiff peaks and then frost cake with fresh whipped cream.
Top with chopped almonds.
Store leftovers in the fridge.

Related Recipes