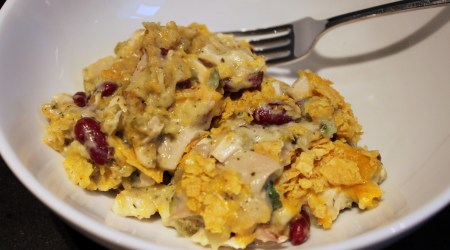 Warning–this recipe comes with a disclaimer: it is not low fat or low cal. It's baked with cheese, sour cream, and tortilla chips. But I have a weakness for Mexican food, and really, what's Mexican food without the cheese, sour cream, and chips??? The way I see it– if I know I'm eating a heavy dinner, then I eat a light breakfast and lunch that day. It's all about balance. So enjoy (don't indulge) this delish Mexican bake!
Ingredients:
3 cups cooked rotisserie chicken, chopped
2 (16 oz.) jars salsa verde (the green stuff)
1 (15 oz.) can kidney beans, rinsed and drained
1/2 cup green onions, chopped
1 cup sour cream
3 cups tortilla chips, crushed
2 cups sharp cheddar cheese, shredded
Directions:
Pre heat oven to 375 degrees F.
Spray 9×13 baking dish with Pam cooking spray. Set aside.
In a large bowl, mix together chicken, salsa, beans, onion, and sour cream.
Scatter 1 cup tortilla chips on bottom of prepared dish.
Top with half the chicken mixture.
Top with 1 cup cheese.
Repeat layers and top with remaining cup of tortilla chips.
Bake 30-40 minutes, until heated thru and cheese is bubbly.

Related Recipes