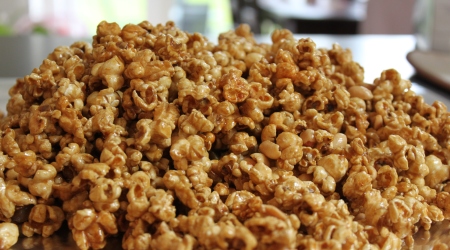 This is the very first recipe I ever tried! It's from my 6th grade Home Ec class and I've used it ever since. It's really easy to make and the best caramel corn you'll ever taste! I suggest doubling the recipe to share with friends. It makes a great treat to bring to play-dates. Also makes a great gift when wrapped in a fun container.
Ingredients:
9 cups freshly popped popcorn
1 cup brown sugar, packed
1/2 cup butter, softened
1/4 cup light corm syrup
1/2 teaspoon salt
1/2 teaspoon baking soda
1 cup salted peanuts
Pam cooking spray
Brown paper grocery bag
Directions:
Generously coat the inside of a brown paper grocery bag with Pam cooking spray.
Put all popcorn into bag. Set aside.
In a large microwave safe bowl, stir together brown sugar, butter, corn syrup and salt (not baking soda) until well combined.
Microwave on high until boiling (about 3-4 minutes).
Once boiling, continue microwaving 2 minutes.
Remove from microwave and add baking soda.
Stir vigorously until mixture is foamy.
Pour mixture on top of popcorn in paper bag.
Roll down top of paper bag to close. Shake bag really well to combine mixture with popcorn.
Keeping bag closed, put in microwave and cook 1 1/2 minutes on high.
Remove bag from microwave, open carefully and add peanuts.
Re-close bag and shake really well.
Keeping bag closed, put back in microwave and cook additional 1 1/2 minutes on high.
Remove from microwave, open carefully and pour hot caramel corn onto a cookie sheet to cool.
Allow to cool completely.
Once cool, break into chunks.
Store up to 3 days in an air tight plastic container.

Related Recipes