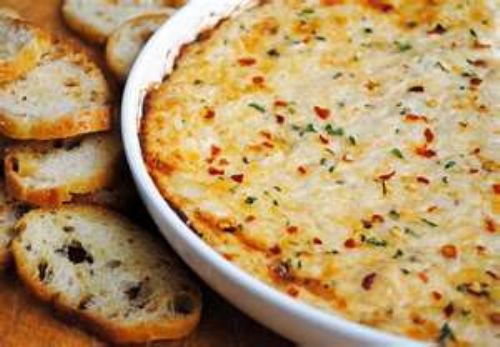 Watch this scrumptious shrimp dip disappear as soon as you serve it hot and bubbling from the oven! Scoop up the tasty cheesiness with crackers or sliced baguette bread.
Ingredients:
8 oz. cream cheese, softened
1/2 cup sour cream
1/3 cup mayo
1 cup pepper jack cheese, shredded
1 cup parmesan cheese, shredded
1/2 cup finely diced red bell pepper
1/3 cup thinly sliced green onion
1 teaspoon Worcestershire sauce
1 lb. cooked small shrimp (peeled and deveined)
Kosher salt and pepper, to taste
Directions:
Preheat oven to 350 degrees F.
Combine all ingredients in a large bowl and transfer to an 8- by 8-inch casserole dish.
Bake 30 to 35 minutes or until golden and bubbly.
Serve with a sliced baguette or crackers.

Related Recipes