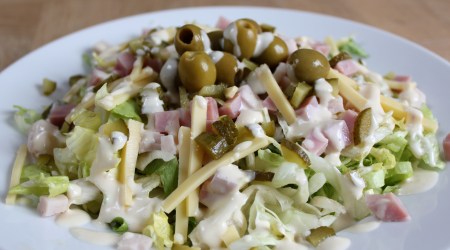 Ask and you shall receive–My Aunt Phyllis posted a recipe request on "Ask KP" for a Hudson's Maurice Salad. So here it is! Many of you Detroiters may know the salad from years ago, as served at the Hudson's department store restaurant. (I grew up eating them myself.) The store no longer exists, so I'm not sure if the salad still does. But I found this recipe on allrecipes.com and must say it comes pretty close to the real deal. The trick is getting the salad dressing just right. But I think this does it. Serve with a crusty white roll and you've got the true experience of a Maurice salad!
Ingredients:
2 teaspoons white wine vinegar
1 1/2 teaspoon fresh lemon juice
1 1/2 teaspoon white sugar
1 1/2 teaspoon Dijon mustard
1 1/2 teaspoon dry mustard
1 1/2 teaspoon white onion, finely grated with juice
1/4 teaspoon kosher salt
1 egg, hard-boiled, peeled and chopped
1 cup mayonnaise
1 Tablespoon fresh flat leaf parsley, finely chopped
3 cups iceberg lettuce, shredded
1 heaping Tablespoon deli ham, diced
1 heaping Tablespoon deli turkey, diced
1 heaping Tablespoon sweet gherkins, diced
1 heaping Tablespoon Swiss cheese, diced
1 heaping Tablespoon green olives
Directions:
To make dressing, whisk together first 7 ingredients (vinegar thru salt). Whisk until sugar dissolves. Stir in egg and mayo and pulse in a food processor until smooth. Stir in parsley. Cover and refrigerate at least 1 hour before serving. Stir well before serving.
To make salad, pile lettuce on a plate. Top with ham, turkey, gherkins, cheese, and olives. Drizzle with dressing.

Related Recipes