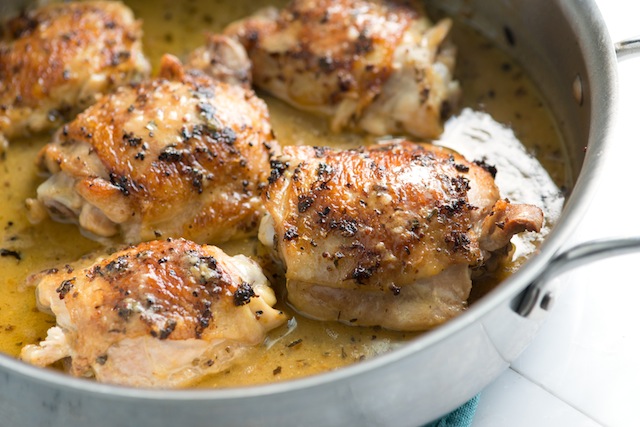 My lemon tree is once again over-flowing, (oh the problems of winter in California, am I right?!?) so I search endlessly for ways to use the delicious fruits. I found this recipe on The Food Network, and loved it! It's super easy, and the sauce is amazing spooned over angel hair pasta. Yes, it calls for a crazy amount of garlic, but don't worry–it bakes until the flavor is subtle and almost sweet. And if you need lemons, let me know–I'll drop a bag off on your front porch

Ingredients:
8 chicken thighs with bones and skin, about 3 1/2 lbs.
1 3/4 teaspoons kosher salt
1 teaspoon freshly ground black pepper
1/2 cup all-purpose flour
1/4 cup extra virgin olive oil
3 cups thinly sliced onions
30 cloves (about 2 heads) garlic, peeled and smashed
1/2 teaspoon crushed red pepper (optional)
1 bay leaf
1/2 cup freshly squeezed lemon juice
1 1/2 cups chicken broth
1 lb. angel hair pasta
3 Tablespoons chopped fresh parsley leaves, plus more for garnish
3 Tablespoons unsalted butter
Directions:
Preheat the oven to 350 degrees F.
Season chicken thighs with 1 1/4 teaspoons of salt and 1 teaspoon pepper.
Place flour in a shallow dish. Lightly dredge the chicken in flour and set aside.
In a large oven-proof saute pan with 3-inch sides, heat oil over medium-high heat.
When oil is hot but not smoking, add thighs and brown well on both sides, about 6 minutes. Remove chicken from pan and set aside.
Add onions to oil and cook, stirring to scrape up any browned bits from the chicken until wilted, about 3 minutes.
Add garlic, crushed red pepper, remaining 1/2 teaspoon salt, and bay leaf and cook 1 minute.
Add lemon juice, chicken broth, and browned chicken thighs to pan.
Bring mixture to a simmer, cover tightly, and place in oven.
Bake 20 minutes, remove the lid and cook an additional 15 minutes, or until cooked through and tender.
While chicken is baking, cook pasta until al dente, according to package directions. Drain well and toss in a large bowl with 3 tablespoons of  parsley and the butter.
To serve, place a portion of pasta in the center of 4 large plates. Arrange 2 thighs around each serving of pasta and drizzle lemon garlic cooking liquid over the pasta.

Related Recipes