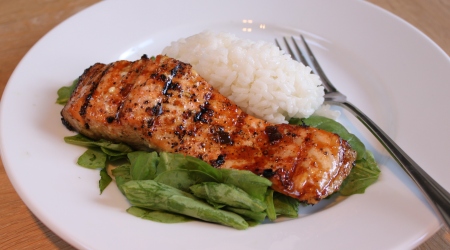 For all you salmon lovers, here's a super flavorful way to grill salmon. Serve it with baby spinach and sushi rice, and it's a great meal! The sweet barbecue sauce is so good, be sure to drizzle extra over the rice. My friend Missy passed along this recipe that she found on foodnetwork.com.
Ingredients:
1 Tablespoon extra virgin olive oil
1 Tablespoon fresh garlic, minced
1 Tablespoon fresh ginger, minced
1 Tablespoon green onion, minced
1 teaspoon red pepper flakes
1/2 cup orange juice
1/2 cup hoisin sauce
3/4 cup soy sauce
3 Tablespoons honey
2 teaspoon sesame oil
4 (8-ounce) salmon steaks, 1-inch thick
Kosher salt and fresh ground black pepper, to taste
3 cups fresh baby spinach, for serving
Directions:
Heat medium saucepan over medium heat.

Add olive oil and saute garlic, ginger and green onion until fragrant and tender.

Add red pepper flakes.

Mix remaining ingredients in separate bowl and add to saucepan.

Bring to a low simmer and cook 10 minutes.

Preheat grill to medium-high heat.

Lightly season salmon steaks with salt and pepper, to taste.

Oil the grill with vegetable oil.

Place salmon flesh side down and grill 5 minutes.

Flip salmon over and brush with barbecue sauce.

Continue cooking an additional 5-8 minutes, until flakes easily with a fork.

Divide baby spinach among 4 plates.

Place hot salmon steaks on top of spinach–spinach will slightly wilt.

Serve immediately.

Related Recipes