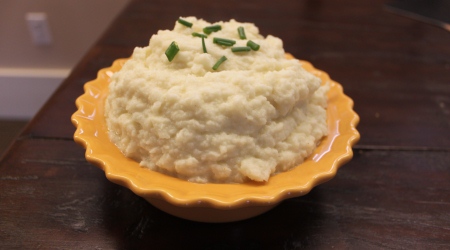 I know this is a popular "low carb" alternative to mashed potatoes, but honestly I was never interested in giving up mashed potatoes, so never tried this recipe. Until now. I decided to give it a go and I gotta say–it's delicious! I served it with Beef Pot Roast, and though not exactly a mashed potato replacement in my mind, it did hold it's own with the pot roast. Try it and see what you think!
Ingredients:
1 medium head fresh cauliflower
1 Tablespoon cream cheese, softened
1/4 cup grated parmesan cheese
2 fresh garlic cloves, minced
1/8 teaspoon Zender's of Frankenmuth Chicken Seasoning (or substitute 1/2 teaspoon salt)
Freshly ground black pepper, to taste
1/2 teaspoon chopped fresh chives, for garnish
3 Tablespoons butter
Directions:
Set a stockpot of water to boil over high heat.
Clean and cut cauliflower into small pieces.
Cook in boiling water for about 6 minutes, or until well done.
Drain well. Do not let cool and pat cooked cauliflower very dry between several layers of paper towels.
In a bowl with an immersion blender, or in a food processor, puree the hot cauliflower with the cream cheese, Parmesan, garlic, chicken base, and pepper until almost smooth.
Stir in butter and top with chives.

Related Recipes