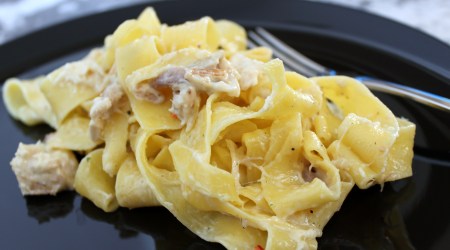 I have so many new recipes to try and share with you–starting with this one. This is a super simple supper idea from Southern Living Magazine. Grab a rotisserie chicken from the grocery store and you'll have this done and on the table in less than a half hour. And it's delicious!
Ingredients:
1  (6 oz.) envelope Good Seasons Italian dressing mix
1  (8 oz.) package wide egg noodles
2  Tablespoons butter, softened
3  cups cooked chicken, chopped
1  cup whipping cream
1/4  cup freshly grated parmesan cheese
Directions:
Cook noodles according to package directions. Drain well and return noodles to pan.
Stir in butter and toss to coat.
Stir in chopped chicken, cream, parmesan and Italian dressing mix.
Cook mixture over medium-high heat for 5 minutes or until thoroughly heated. Stir often.
Serve immediately.

Related Recipes