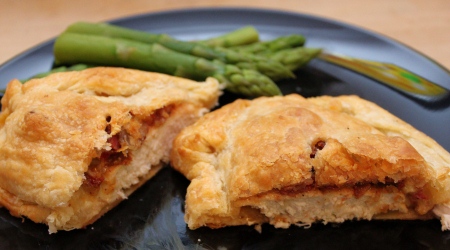 Oh. My. Goodness. This recipe is to die for!!! To quote my husband, "what's not to love about chicken, bacon and cheese?" This is definitely a company-worthy dish. Pair these hot and cheesy chicken pastries with fresh steamed asparagus, a tossed salad, and a chilled glass of white wine for an amazing dinner! Thanks to Rachel Ray magazine for this recipe–I didn't change a thing.
Ingredients:
4 (6 oz. each) skinless, boneless chicken breasts
2 teaspoons Cajun seasoning (I love Emeril's Bayou Blast!)
2 Tablespoons extra virgin olive oil
4 oz. Brie cheese, cut lengthwise into 4 slices
1 sheet frozen puff pastry, thawed
4 slices bacon, cooked and crumbled
Directions:
Pre heat oven to 350 degrees F.
Spray a large rimmed cookie sheet with Pam cooking spray.
Pound chicken breasts to even thickness.
Season chicken on both sides evenly with Cajun seasoning.
In a large skillet, over medium-high heat, heat olive oil.
Brown chicken on each side, about 5 minutes, then transfer to a plate and reserve juices in skillet.
Cut puff pastry into 4 equal pieces and roll each one out into an 8-inch square.
Place a browned chicken breast onto each of the squares toward one corner.
Top each with a slice of Brie and 1 Tablespoon crumbled bacon.
Fold pastry in half to create a triangle and pinch closed along the edges.
Brush with chicken drippings from the skillet.
Using a sharp knife, make 2 small, straight cuts on top to allow the steam to vent.
Bake until chicken is cooked through, 30 to 35 minutes.

Related Recipes