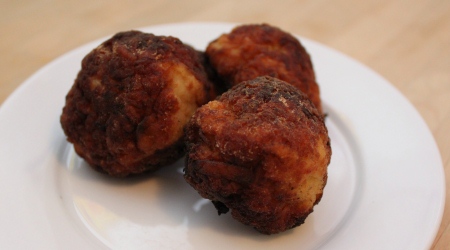 These are fantastic! Serve as a snack, an appetizer, or with fresh veggies as a main course. Plus kids love 'em! And don't worry about frying in a deep skillet of oil. They aren't greasy because ground chicken absorbs very little oil during cooking. Now that you have this recipe, no need for those icky frozen meatballs!
Ingredients:
1 lb. ground chicken
1 large apple, peeled and grated
1 1/2 cups fresh white breadcrumbs
1 teaspoon chicken seasoning
1 Tablespoon dried minced onion
1/4 teaspoon herbes de Provence
1/4 teaspoon ground paprika
1/4 teaspoon freshly ground pepper
1/2 cup all-purpose flour
Vegetable oil
1 Tablespoon honey
1 Tablespoon Dijon mustard
1 teaspoon mayo
Directions:
Using hands, squeeze out all excess water from grated apples.
Still using hands, mix apple with ground chicken, breadcrumbs, chicken seasoning, minced onion, herbes de Provence, paprika and pepper. Mix until just combined–don't over mix.
Form mix into 20 meatballs (don't make too big or they won't cook thru).
Roll balls in flour to lightly dust. Shake off excess.
Fill a large, deep-sided skillet half full with vegetable oil.
Heat oil until hot, but not smoking.
Place meatballs in oil one-by-one and pan fry until lightly on all sides, about 8 minutes, or until cooked thru.
Using tongs, remove meatballs from oil and place on a paper towel lined plate.
To make dijon dipping sauce, whisk together honey, dijon and mayo until combined.
Serve hot with dipping sauce on the side.

Related Recipes