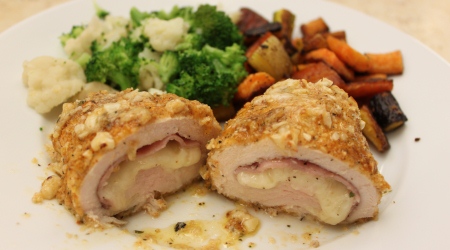 This impressive recipe comes from Cooking Light magazine. It's impressive because it looks and tastes so good, but is fairly easy to put together. (Really much simpler than I anticipated!) The stuffed chicken breasts bake in a garlic-butter-broth that adds so much flavor, you'll want to scoop some on top of the chicken before serving. Serve with home-made mashed potatoes and roasted veggies for a hearty, healthy dinner.
Ingredients:
1/4 cup chicken broth
5 teaspoons butter, melted
1 fresh garlic clove, minced
1/2 cup breadcrumbs
1 Tablespoon freshly grated Parmesan cheese
1 teaspoon paprika
4 skinless, boneless chicken breasts
Dried Italian seasoning, to taste
Garlic salt and freshly ground black pepper, to taste
4 thin slices smoked deli ham
4 thin slices Swiss cheese
Directions:
Preheat oven to 350 degrees F.
Spray an 8-inch square glass baking dish with Pam cooking spray. Set aside.
Place broth in a small microwave-safe bowl and microwave at high 15 seconds or until warm.
Stir butter and garlic into broth. Set aside.
Combine breadcrumbs, Parmesan cheese, and paprika in a shallow bowl. Set aside.
Place each chicken breast between 2 sheets of heavy-duty plastic wrap, and pound each to 1/4-inch thickness using a meat mallet or rolling pin.
Sprinkle both sides of chicken with garlic salt, pepper, and Italian seasoning to taste.
Top each breast half with 1 slice of ham and 1 slice of Swiss.
Roll up each breast jelly-roll fashion, securing ham and cheese inside chicken. Ensure ends are tucked in well, using tooth picks if need be.
Dip each roll in broth mixture, then dredge in breadcrumb mixture.
Place rolls, seam side down, in prepared baking dish.
Pour remaining broth mixture over chicken.
Bake 25-30 minutes or until juices run clear and tops are golden.

Related Recipes