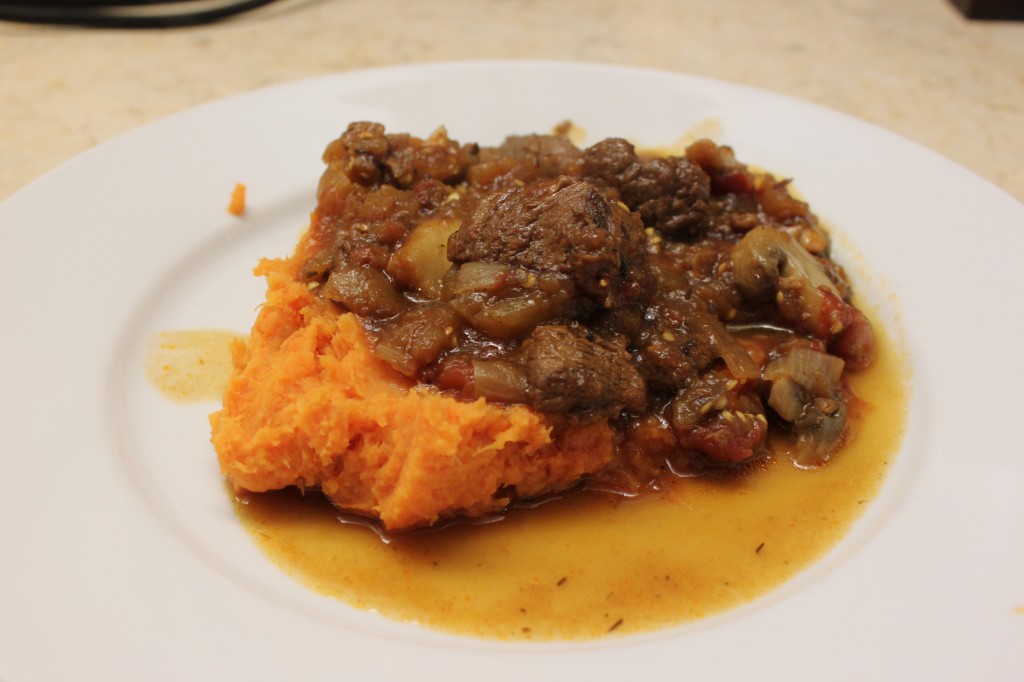 This will warm you up on a chilly day! Scoop the savory beef and eggplant over mashed sweet potatoes. Leftovers are great the next day. The recipe comes from SlimmingWorld.com.
Ingredients:
1 Tablespoon extra virgin olive oil
1 1/2 lbs. lean chuck steak, cut into 1-inch cubes
1 red onion, thinly sliced
4 fresh garlic cloves, minced
1 Tablespoon tomato paste
1 lb. eggplant, cut into large chunks
14 oz. can diced tomatoes
2 cups beef bouillon, hot
2 teaspoons worcestershire sauce
1 teaspoon dried thyme
4 oz. mushrooms, sliced
Kosher salt and freshly ground black pepper, to taste
Directions:
Heat a large ovenproof casserole dish on medium heat and add oil.
Add beef to pan and brown pieces.
Transfer beef to a bowl and set aside.
Add onions to pan and cook 10 minutes. Add more oil if pan gets dry.
Add garlic and cook 1 minute more.
Add tomato paste and eggplant and stir to coat well.
Add canned tomatoes, worcestershire, thyme and beef pieces back to pan.
Turn up heat and add beef bouillon.
Bring to a boil.
Cover and simmer 1 1/2 hours.
Add mushrooms a half hour before end of cooking time.
Stir after cooking, taste, and season with salt and pepper as needed.

Related Recipes