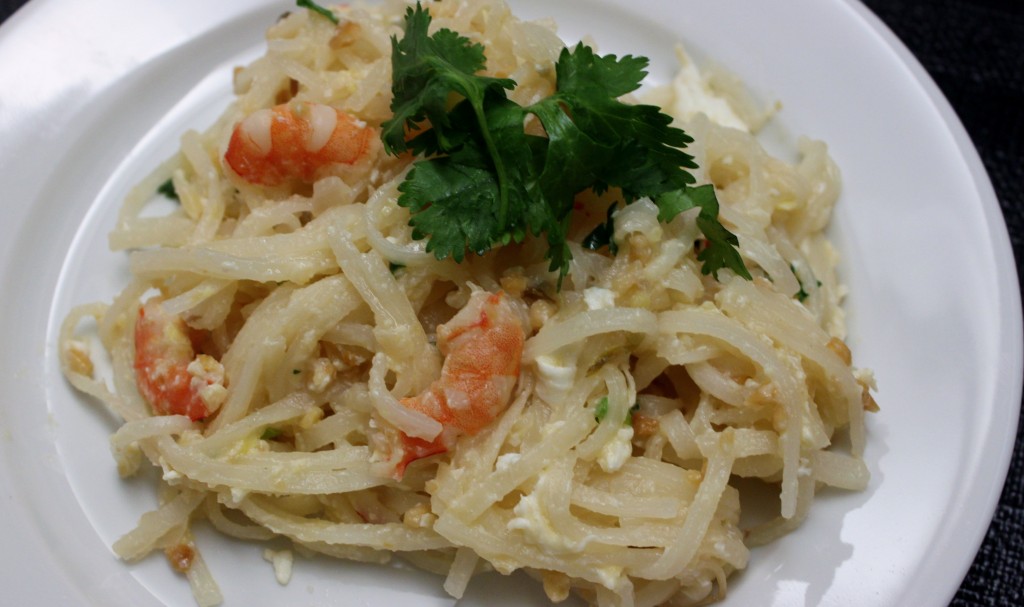 Here's my favorite Thai dish!!! Stir-fried shrimp and rice noodles in a sweet, salty, sour and spicy sauce topped with roasted peanuts–what's better than that?? Dig in!
Ingredients:
4 Tablespoons fresh lime juice
3 Tablespoons fish sauce
3 Tablespoons sugar
1 Tablespoon chili sauce
6 oz. rice noodles
1 Tablespoon peanut oil
6 oz. raw shrimp, shelled and de-veined
2 shallots, chopped
2 cloves garlic, chopped
1 egg, lightly beaten
2 Tablespoons roasted peanuts, chopped
1 cup bean sprouts
2 green onions, sliced
1/4 cup fresh cilantro, chopped
1 lime lime cut into wedges
Directions:
Whisk together lime juice, fish sauce, sugar and chili sauce until the sugar is dissolved. Set aside.
Cook rice noodles as directed on package. Set aside.
Heat oil in a large non-stick pan over medium heat.
Add shrimp, shallots and garlic and saute 5 minutes.
Add sauce and noodles and mix gently.
Move noodles to the side of the pan and add the egg.
Let it set a bit and then mix it into the noodles.
Add peanuts and bean sprouts and cook for a minute.
Add green onions and cilantro and remove from heat.

Related Recipes