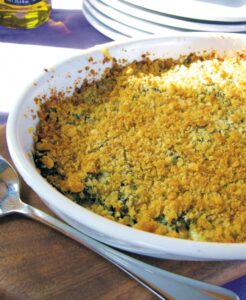 I'm a firm believer that adding cheese and butter to any veggie is not only healthy and delicious, but the nutrients in the veggies cancel out the calories in the butter and cheese. Am I right?? Who's with me?? Thanks to Real Simple magazine for this incredible side dish.
Ingredients:
2 Tablespoons extra virgin olive oil
1 medium bunch kale, thick stems removed and leaves torn into bite-size pieces (about 10 cups)
1 shallot, sliced
Kosher salt and freshly ground black pepper, to taste
2 oz. cream cheese
2 Tablespoons sour cream
1 cup coarse fresh bread crumbs
1 Tablespoon butter, cut up
Directions:
Heat oven to 375 degrees F.
Heat the oil in a large skillet over medium heat.
Add the kale and shallot, season with salt and pepper, to taste.
Cook, tossing occasionally, until tender, 8 to 10 minutes.
Mix in cream cheese and sour cream.
Transfer to a shallow baking dish, and top with bread crumbs and butter.
Bake until golden, 7 minutes.

Related Recipes