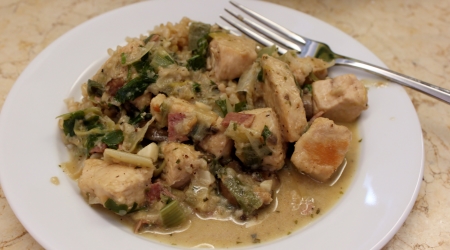 This recipe combines some of my favorite flavors! Plus it's easy to make and leftovers are equally fab. Serve the soupy sauce over rice to soak up all the delicious bits. I found the recipe on DonnaHay.com.
Ingredients:
3 lbs. boneless, skinless chicken breasts, cut into 1-inch pieces
1/4 cup all-purpose flour
3 Tablespoons extra virgin olive oil
5 oz. bacon, chopped
2 leeks, cleaned and sliced
2 garlic cloves, minced
7 oz. button mushrooms, sliced
1 1/2 cups chicken stock
1 cup white wine
1/2 cup heavy cream
1 Tablespoon fresh flat leaf parsley, chopped
1 Tablespoon fresh tarragon, chopped
Directions:
Toss chicken pieces in flour and shake off excess.
Heat oil over medium-high heat in large non-stick skillet.
Add chicken pieces in batches and brown on all sides, 5-8 minutes.
Remove chicken from pan and set aside.
Add bacon, leeks, garlic, and mushrooms to pan.
Cook until golden about 8 minutes.
Remove to a clean bowl and set aside.
Add stock and wine to pan.
Bring to a simmer, scraping bottom of pan.
Return chicken only to pan and cover.
Cook 25 minutes.
Add leek mixture, cream, parsley, tarragon and salt and pepper to taste.
Simmer uncovered about 5 minutes, or until thickened.
Serve over rice.

Related Recipes