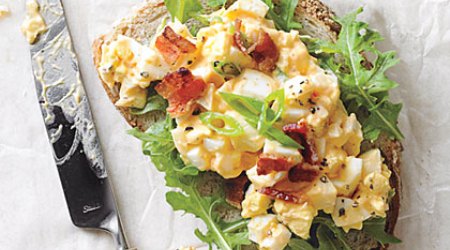 Try this jazzed up egg salad from Cooking Light that's delicious served with arugula on top of whole-grain bread. Wow your family at your next lunch with this recipe!
Ingredients:
2 bacon slices
1/3 cup green onions, thinly sliced
2 Tablespoons mayo
1 Tablespoon plain Greek yogurt
1 1/2 teaspoons Sriracha (hot chile sauce)
1/4 teaspoon freshly ground black pepper
1/8 teaspoon kosher salt
6 hard-cooked large eggs, chopped
Directions:
Cook bacon in a medium pan over medium-high heat, 3 minutes, or until crisp.
Remove bacon from pan and crumble.
Place bacon in a large bowl.
Stir in onions and next 5 ingredients (through salt).
Gently stir in eggs.
Arrange 1/2 cup arugula on each of 4 bread slices.
Top each serving with 1/3 cup egg mixture and 1 bread slice.

Related Recipes