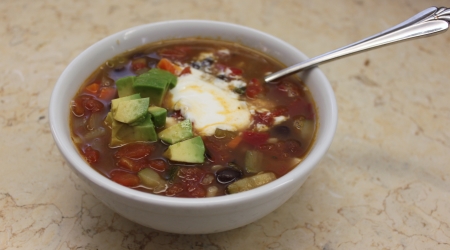 This stew is uber healthy and keeps you full all day! The subtle flavors of adobo sauce, orange zest, and fresh thyme are incredible. To save time cooking the brown rice, buy bowls of already cooked rice from Costco or your local supermarket (check the rice aisle).
Ingredients:
2 teaspoons canola oil
1 medium red onion, diced
2 carrots, diced
2 celery stalks, diced
1 zucchini, diced
2 (15 o.z) cans black beans, drained
1 (28-oz.) can diced tomatoes, un-drained
2 cups vegetable broth
1 cup jarred roasted red peppers, drained and diced
2 Tablespoons canned chipotle pepper in adobo sauce, minced
2 teaspoons cumin
Kosher salt and freshly ground black pepper, to taste
Zest of 1 orange
1 Tablespoon fresh thyme, chopped
1 cup cooked brown rice.
1 fresh avocado, peeled, pitted, and diced
Sour cream, for serving
Directions:
In a large stock pot, heat oil over medium heat.
Add onion, carrot, zucchini and celery.
Cook 8-10 minutes, until soft.
Stir in beans, tomatoes, broth, red peppers, chipotle, and cumin.
Season with salt and pepper to taste.
Bring to a boil.
Lower heat, cover, and simmer 20 minutes.
Stir in orange zest, thyme, and cooked brown rice. Heat through.
Top with a dollop of sour cream and diced avocado.

Related Recipes