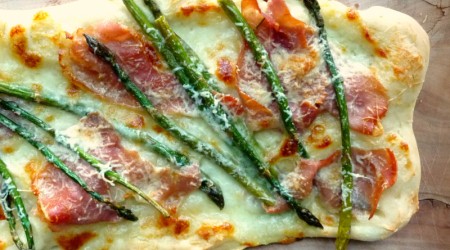 I served this simple appetizer at a recent party and it was hands-down the favorite dish all night. Proof again, that simple can be scrumptious!
Ingredients:
Pre-made pizza dough (recipe found separately on this site.)
Truffel oil, for drizzling
8 oz. fresh mozzarella, sliced
4 oz. prosciutto slices
1 bunch thin asparagus
1/4 cup grated pecorino romano cheese
2 Tablespoons grated parmesan cheese
Freshly ground black pepper
Directions:
Preheat oven to 475 degrees F.
Place pizza crust on parchment paper.
Lightly brush pizza crusts with truffle oil.
Arrange one layer mozzarella cheese over crusts.
Top with layer of prosciutto.
Arrange asparagus spears over prosciutto.
Top with both grated cheeses.
Slide crusts onto pizza stone (or on tray on lowest rack).
Cook until crust is golden brown and cheese is bubbly, about 5-10 minutes. Check frequently to avoid burning.
Remove from oven and cool 5 minutes.
Drizzle with extra truffle oil and slice into thin squares.

Related Recipes